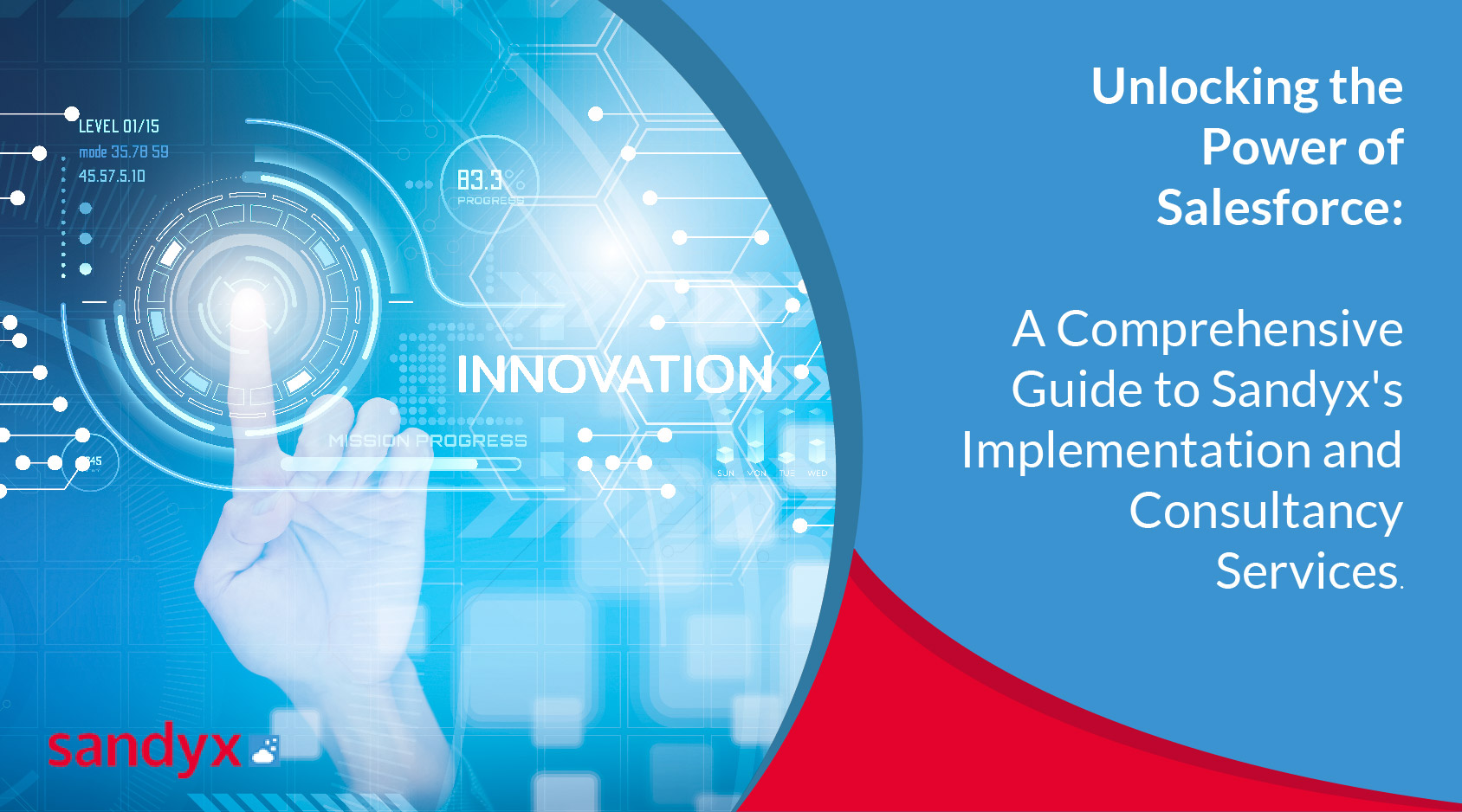 Unlocking the Power of Salesforce: A Comprehensive Guide to Sandyx's Implementation and Consultancy Services.
Salesforce has revolutionised the way businesses operate, enabling organisations to streamline processes, enhance customer relationships, and drive growth. However, unlocking the full power of Salesforce requires a strategic approach and expertise.
In this comprehensive guide, we will explore how Sandyx's implementation and consultancy services can help businesses harness the true potential of Salesforce.
Understanding Your Business Needs:
At Sandyx, we believe that a successful Salesforce implementation starts with a deep understanding of your business requirements. Our team of experts will work closely with you to identify your specific goals, pain points, and challenges. By gaining insight into your unique needs, we can design a Salesforce solution that aligns perfectly with your business objectives.
Scoping and Design:
Once we have a clear understanding of your requirements, Sandyx will embark on the scoping and design phase. Our experienced consultants will analyse your processes and workflows, ensuring that the Salesforce implementation is tailored to optimise your business operations. By designing a customised solution, we maximise user adoption and drive efficiency throughout your organisation.
Seamless Implementation:
Sandyx boasts a skilled team of developers that expertise will seamlessly deploy your Salesforce solution, ensuring that it is configured to meet your specific needs. Our implementation process is designed to minimise disruption to your business while maximising the benefits of Salesforce.
Integration with Existing Systems:
To unlock the full potential of Salesforce, integration with existing systems is often essential. Sandyx recognises the importance of seamless data flow across your organisation. Our experts will seamlessly integrate Salesforce with your finance, ERP, or other business-critical systems.
User Training:
Adoption is key to Salesforce's success. Sandyx offers comprehensive user training programs to ensure that your employees have the knowledge and skills to leverage Salesforce effectively. Our training sessions are tailored to your specific implementation, focusing on the features and functionalities that are most relevant to your team. By empowering your users, we drive higher user adoption rates and maximise your return on investment.
Ongoing Support:
Sandyx is committed to your long-term success with Salesforce. We offer a range of support services to meet the needs of your business and users. From around-the-clock technical assistance to ongoing administration and customisation, our dedicated support team is here to address any issues and provide guidance as your business evolves.
Specialisations and Expertise:
Sandyx specialises in implementing various Salesforce products, such as Sales Cloud, Service Cloud and Community Cloud. Our deep knowledge of these solutions allows us to tailor Salesforce to meet the unique requirements of your industry and business model.
Industry Success Stories:
Sandyx has a proven track record of successful Salesforce implementations across diverse industries, including life sciences, manufacturing and engineering, communications, retail, logistics, healthcare, IT, and automotive. By sharing industry-specific success stories, we demonstrate our ability to drive tangible results and meet the unique challenges faced by businesses in different sectors.
Unlocking the power of Salesforce requires a strategic approach and a partner that understands your business needs. Sandyx's comprehensive implementation and consultancy services enable businesses to harness the full potential of Salesforce. From scoping and design to seamless deployment, user training, and ongoing support, Sandyx is committed to driving your success. With our expertise and industry-specific knowledge, we empower organisations to streamline processes, enhance customer relationships, and achieve their business goals with Salesforce.
Whether you have questions about our implementation and consultancy services, need assistance with scoping and design, or require ongoing support for your existing Salesforce system, we are here to help.
Reach out to us to schedule a consultation and discover how Sandyx can tailor Salesforce to meet your unique business needs. Together, we will unlock the full potential of Salesforce and drive your business to new heights of success.
Contact Information:
Email: sales@sandyx.com
Phone: 0161 710 3250
Website: www.sandyx.com