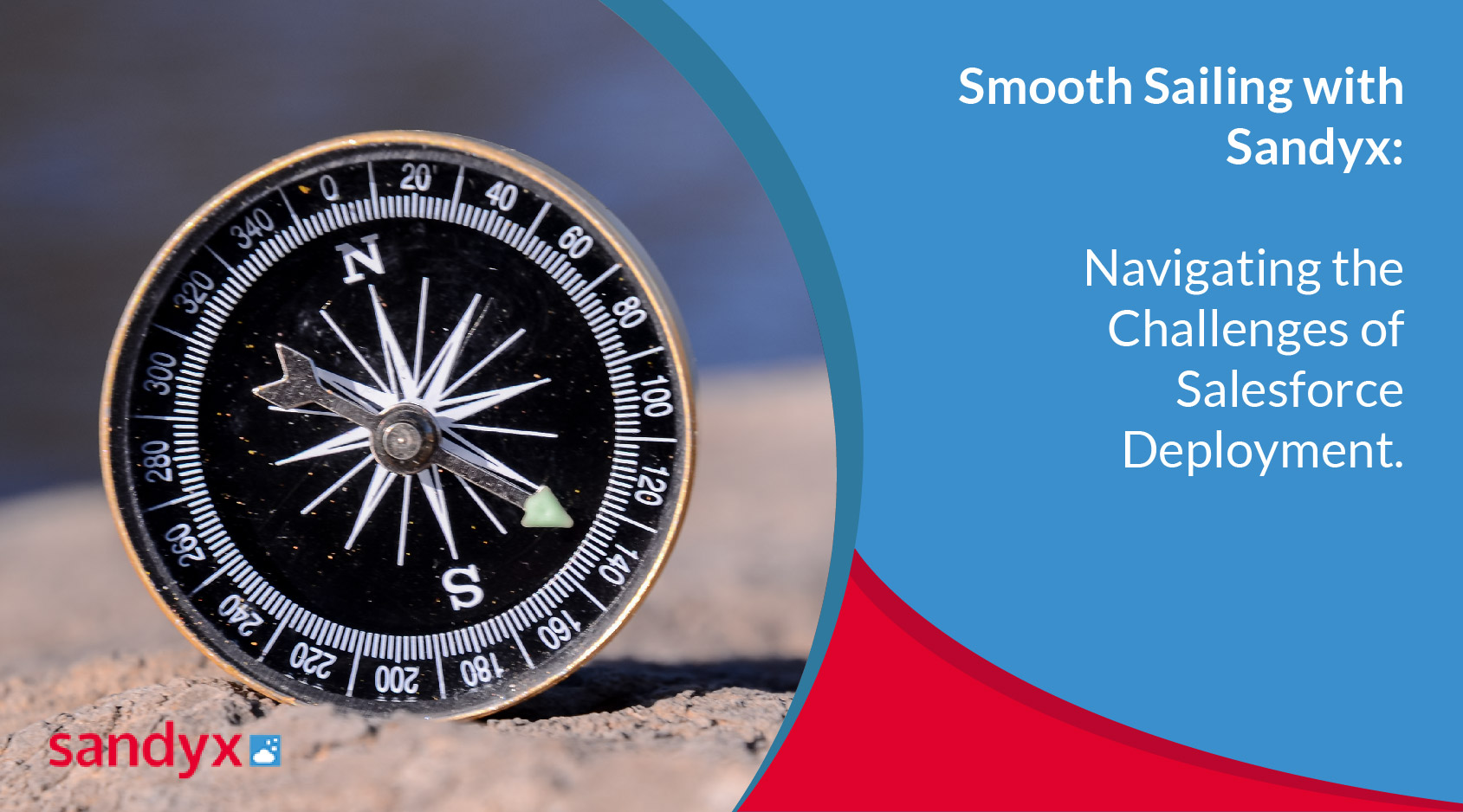 Smooth Sailing with Sandyx: Navigating the Challenges of Salesforce Deployment.
Implementing Salesforce can be a transformative journey for businesses, but it's not without its challenges. 
That's where Sandyx, a certified Salesforce Implementation Partner, can help. With over a decade of experience and a track record of successful implementations, Sandyx has earned a reputation for delivering seamless Salesforce deployments. 
In this blog post, we will explore how Sandyx helps businesses navigate the challenges of Salesforce deployment, ensuring smooth sailing from start to finish.
Expertise Across Industries:
Sandyx has worked with a diverse range of industries, including life sciences, manufacturing and engineering, communications, retail, logistics, healthcare, IT, and automotive. This extensive industry expertise allows Sandyx to understand the unique needs and requirements of each business, ensuring tailored Salesforce solutions that drive success.
Success Story: Streamlining Sainsbury's Salesforce Implementation:
One of Sandyx's notable success stories is its work with Sainsbury's. Faced with a complex Salesforce app that had become difficult to manage in-house, Sainsbury's turned to Sandyx for a solution. Sandyx's expertise in decluttering and redesigning the existing Salesforce app, combined with seamless integration of a custom-built system, resulted in a streamlined architecture that eliminated over-reliance on third parties and empowered Sainsbury's to take control of their critical business processes.
Scaling with Success: Hermes' Salesforce Journey:
Hermes, the UK's second-largest parcel delivery company, recognized the need for flexibility, functionality, and integration capabilities as they aimed to scale their operations. Sandyx was engaged to design and develop a Salesforce solution that would meet these requirements. Leveraging the power of Sales Cloud and custom components, Sandyx delivered a bespoke solution, including an offline mobile app, an easily-integrated recruitment page, and comprehensive reporting features. This allowed Hermes to efficiently manage their field managers and couriers, providing real-time data and enabling informed decision-making.
Comprehensive Services for Salesforce Success:
Sandyx offers a comprehensive range of services throughout the Salesforce implementation journey. From scoping and design to implementation, integration, user training, and ongoing support, Sandyx ensures that businesses get the maximum value from their Salesforce investment. The expertise and experience of their skilled team of developers, coupled with a customer-centric approach, enable Sandyx to deliver customized solutions that align with business goals.
Methodology for Success:
Sandyx follows a proven methodology that emphasises upfront information collection and the rapid delivery of a working prototype. By focusing on demonstrating value early in the implementation process, Sandyx ensures that businesses can see the benefits of Salesforce from the start. This methodology, developed through years of experience and successful projects, mitigates risks and ensures a smooth and efficient deployment.
New Salesforce deployment tool:
The Salesforce DevOps Center is an innovative and free deployment tool developed by Salesforce to empower organisations in their DevOps journey. It provides a range of powerful features that facilitate seamless and efficient deployment processes. 
One of the key features offered by the DevOps Center is visual development pipelines. This feature allows teams to define and visualise the pipeline of development environments, providing a clear understanding of how changes flow from one stage to another. With visual pipelines, teams can easily track the progress of their changes and identify any bottlenecks or delays in the deployment process.
Salesforce DevOps Center represents a huge step forward in the ease of deploying complex changes from Sandbox to Production, replacing Changesets, that have frustrated System Admins for many years.
Implementing Salesforce can be a complex and challenging endeavour, but with Sandyx as your trusted partner, you can navigate the journey with ease. Through their industry expertise, success stories, comprehensive services, and proven methodology, Sandyx enables businesses to harness the full potential of Salesforce, driving growth, efficiency, and customer satisfaction. Whether it's streamlining critical business processes or scaling operations, Sandyx is committed to delivering smooth sailing and Salesforce success.
Reach out to us to schedule a consultation and discover how Sandyx can tailor Salesforce to meet your unique business needs. Together, we will unlock the full potential of Salesforce and drive your business to new heights of success.
Contact Information:
Email: sales@sandyx.com
Phone: 0161 710 3250
Website: www.sandyx.com