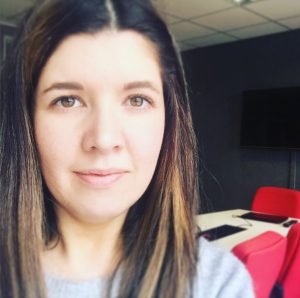 Claire MacIntyre, Office Manager at Sandyx – My Role As A Manager In The Workplace I've been with Sandyx for over 6 years now, and for the last 5 of these years I've been here in the capacity of the Office Manager.
If you look up the responsibilities of an office manager, one of the key things that's always listed is the ability to organise; organise processes, organise people and possibly the most important, organise yourself. Now this skill may not be as noteworthy as others but it's a skill that has enabled me to contribute greatly to the workings of every company I have worked for, whether in a small departmental capacity, or in the position I find myself in today. it's also a skill that transcends to all aspects of my life helping me achieve a good 'work life balance' (well most of the time), whilst I juggle the responsibilities of being a manager, a mother, a wife, a housekeeper, a daughter and a friend, simultaneously.
In terms of being a woman there are some roles that you naturally just fall in to; being a mother for example or any kind of caregiver, and some roles you achieve through hard work and experience. However, no matter what capacity I find myself in, I give every role my all and I am equally proud of my achievements within each of them. I have spent most of my working life in various administrative and office-based roles and secured my first office job when I was only 16 years old and still at school, after a very successful two-week, work experience placement at a busy delivery depot.
Since then I've moved on to bigger and better jobs adding to my skill set, but always aspiring to be greater and to achieve more. I also have a first-class degree in Psychology which I am vastly proud of and even though most psychology theorem doesn't really apply to the day to day running of an office, except maybe Warrs Vitamin model (1987)! the skills I developed in obtaining my degree do.
For me the best jobs, including my current position have been ones with good higher managerial support, flexibility and positive reinforcement; whether in the form of 1:1 catch up meetings, time off at short notice without reproach, or the acknowledgement of a job well done. All of the above minimise stress and improve confidence which in turn promotes job satisfaction. It's a positive cycle and it works well for me because it acknowledges that my role as a manager; even though its important, is not my only role.